Conservatory Glass
Enjoy your conservatory all year round
Retrofitted in to existing and new window frames
Low-E-Plus Suncool™ glass provides year-round comfort in conservatories and large areas of glazing. It provides both excellent solar protection and thermal insulation; while its high light transmittance means that the view is perfect all year round.
In the warmer months, Suncool™ reflects the sun's heat, helping to maintain a cooler temperature. This makes it particularly suited to glazing that faces South or West and when winter arrives the high thermal insulation helps to keep rooms warmer. In addition to its excellent solar control and thermal insulation properties, Suncool™ offers a low internal reflection, reduced glare, and it helps to protect furnishings from harmful UV.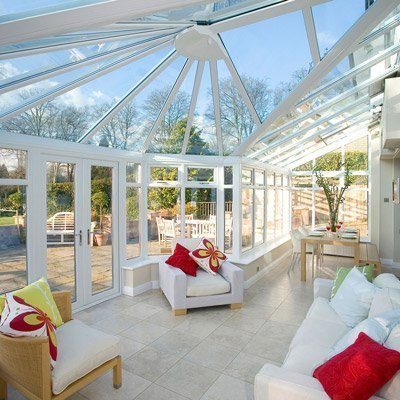 Self Cleaning Glass Option
The Low-E-Plus Self-Cleaning Glass range combines low-e glass for thermal efficiency with solar-control and self-cleaning properties. Fitting new Low-E-Plus Self-Cleaning glass will transform your conservatory into a bright welcoming room, with greater temperature control and less noise when it rains – so you can enjoy it at any time of the year.
With a plastic roof, a light shower can sound more like a hailstorm. But with a new glass roof, you might not even notice it's raining.
Don't let the rain put a dampener on you spending time in your conservatory. With a replacement glass roof from EnerGlaze, on an overcast day this bright room can be one of the nicest places to relax in the house.
Suncool Conservatory Glass
Low-E-Plus Suncool™ glass delivers greater comfort throughout the year. By using replacement conservatory glass units in the roof and sidewalls, you can keep your conservatory cooler when it's warm outside and warmer when the weather's cold. (subject to survey)
How Self-Cleaning Glass Works
Low-E-Plus Self-Cleaning Glass is the world's first self-cleaning glass. This clever glazing product has a unique dual action microscopic coating, making it ideal as a replacement conservatory glass.
The coating reacts with daylight to break down organic dirt. Then, when rainwater hits the glass it spreads evenly, running off in a sheet and taking the loosened dirt with it. It also dries quickly, reducing streaks. All you need to do is give the glass an occasional hose during dry spells.